Better-than-KFC Baked Oven Fried Chicken – You'll never want takeout fried chicken again!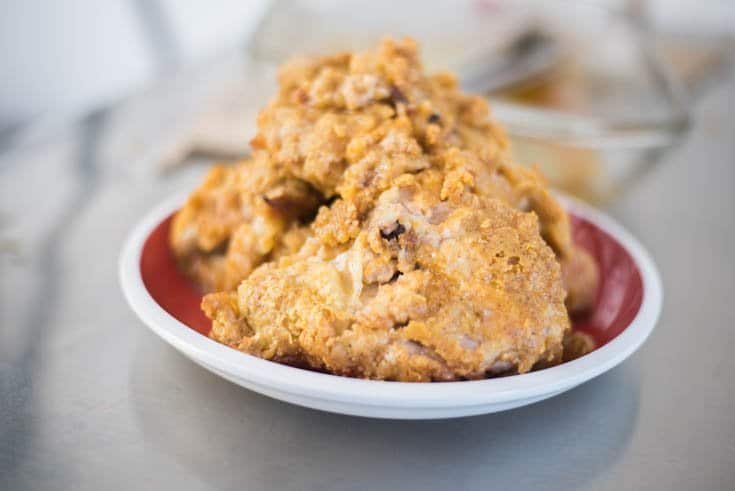 While we don't eat a ton of baked oven fried chicken, there are just those days when all you want is some finger lickin' good chicken
This recipe will definitely satisfy those cravings – though, be warned, you might be tempted to make it even more frequently.
Over the years, I've tested this recipe time and time again, and I finally feel as if I've gotten it down to an art. For the best crispy oven fried chicken, keep these tips in mind:
Use chicken thighs – these yield FAR better results than does chicken breast. I think the chicken stays juicier
Rice Flour – this is a tip I learned from "Help our Yelp." Rice flour can help make your fried chicken just a little crispier and more delicious. You can still be successful with all purpose flour…but the rice flour is worth getting.
Broil if needed – I think over the years, the biggest complaint that comes from this recipe is that it can get a bit soggy. This does happen on occasion. I usually find it happens to the side of the chicken that is facing the butter for the last half of the baking time. To combat this, you can flip it over after the 40 minutes is up – put the oven on broil for 30 seconds to 1 minute – watching it carefully. It can really help to crisp it up just a little bit more.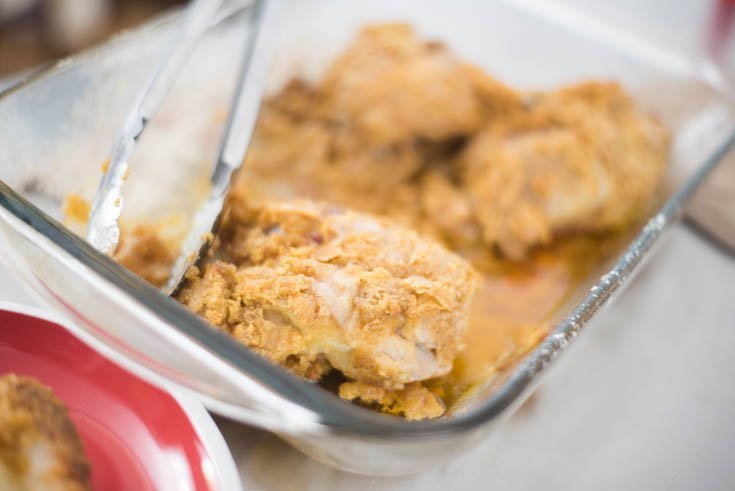 This recipe really is so simple – it doesn't require a ton of ingredients or a ton of skill. I think it's one that just about anyone can enjoy and make.
When we most recently made it, Forrest couldn't stop talking about how perfectly the chicken was cooked inside. I totally agreed! This was due to using the chicken thighs – another way to make sure your chicken stays juicy and not dry is to use an oven thermometer.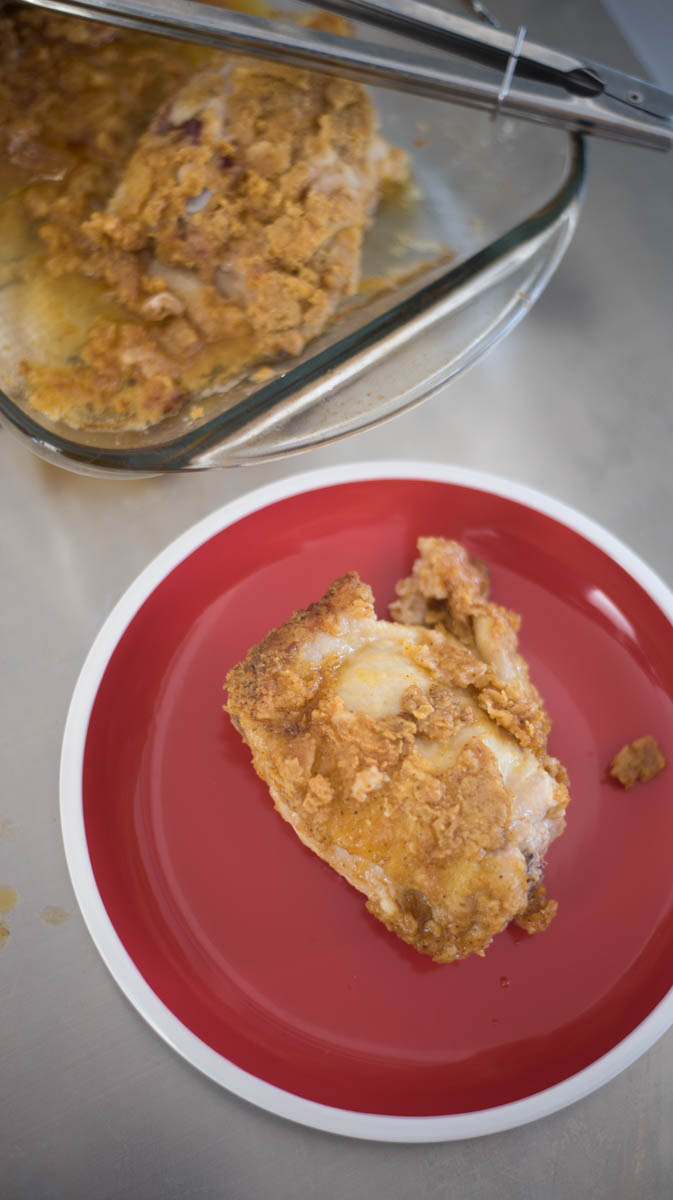 Here are the ingredients and tools you need for this recipe:
Please let me know if you try this recipe and what you think. It's one our entire family really loves!
Oven Fried Chicken
Ingredients
1/2

cup

butter

4

chicken thighs

1 1/2

cup

rice flour

all purpose can be substitute

1.5

tbsp

Season All

1

tsp

pepper

1.5

cup

milk
Instructions
Soak chicken breasts in milk for at least 30 minutes.

Preheat oven to 400 degrees. In a 9×13 baking dish, slice the butter into about 8-10 pieces and place around dish. Melt in oven while other steps are completed.

In a large bowl, place flour, season all, pepper, and paprika and mix with a wooden spoon. Take each piece of chicken and shake off excess milk, and dip into flour mixture. Flip it until it's covered in the mixture. Place each piece of chicken in prepared baking dish, making sure not to overlap pieces.

Bake for about 20 minutes, then flip each piece. Bake for another 20 minutes, or until chicken is no longer pink. Cut into a few pieces to ensure they are cooked thoroughly, and the juices run clear – internal temperature should be 165 degrees. If any side of the chicken is soggy, broil for 30 seconds to 1 minute (watch carefully).